Get A FREE Copy of the New Book
by Matt Tenney, Inspire Greatness!
(We'll even pay for the shipping!)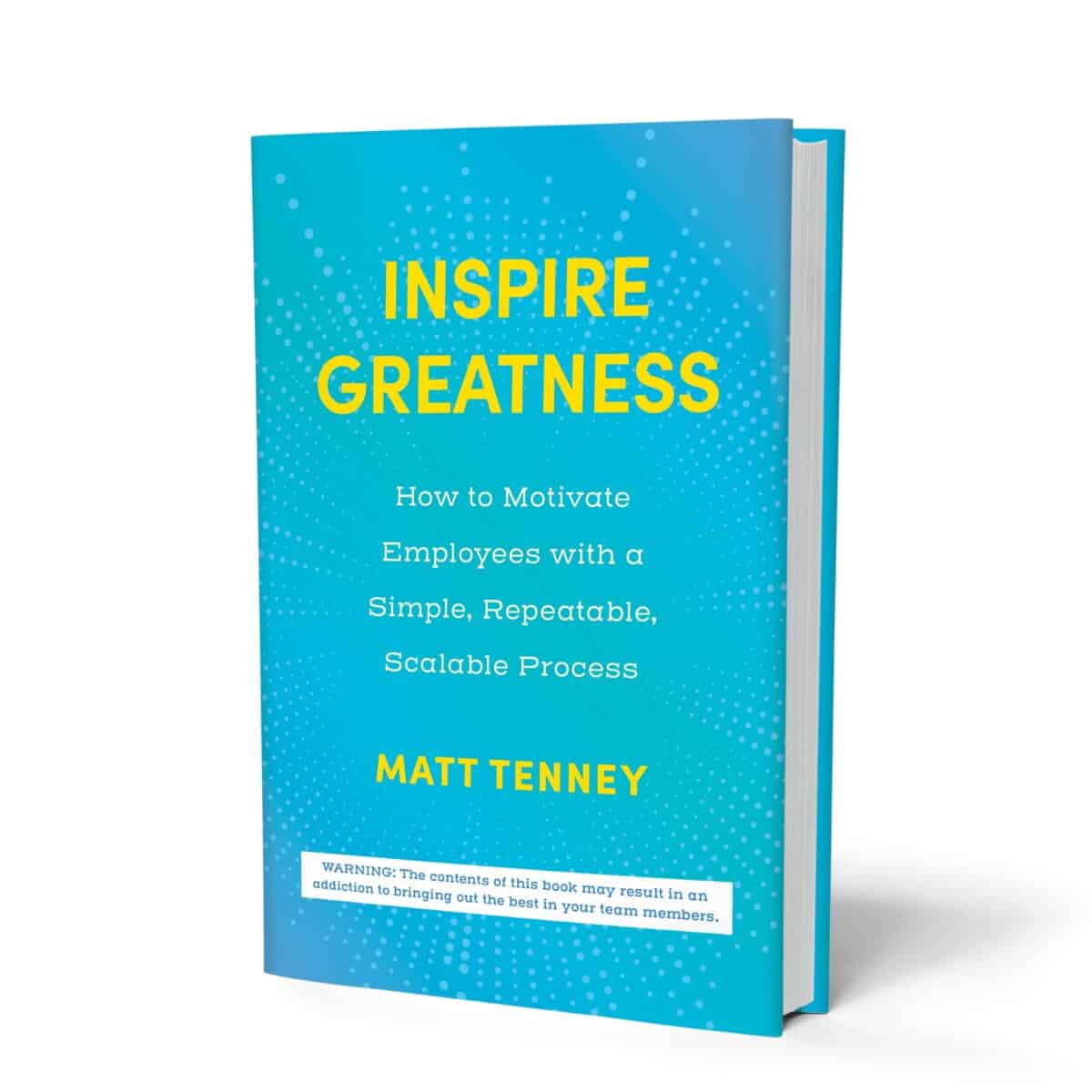 All we ask is that – if you like the book – you help spread the message by telling others about the book and leaving a review on Amazon.com.
Here's what you'll learn in this book:
How to apply a simple, 4-step process – that any leader can follow – to consistently bring out the best in team members
How to apply a groundbreaking approach to quickly and sustainably improve employee motivation and engagement
How to deliver a leadership development program that helps leaders make lasting behavior changes that are proven to drive high levels of employee engagement, performance, and well-being
How to

reduce turnover by 10% or more

just by using surveys in a creative way
Why the best employee engagement and retention strategies – used by companies with the highest levels of engagement and best employee retention rates – are actually

the least expensive
Why most employee engagement and retention strategies initiatives fail, and

what to do differently
---
Here's What People Are Saying About Inspire Greatness
It's not often that a business book completely disrupts the status quo. Inspire Greatness does exactly that. In this engaging book you'll discover a compelling explanation for why the average levels of employee engagement and motivation haven't improved in over 20 years, along with an innovative solution that will help you and your organization to improve and sustain employee engagement and performance. If you are a leader of people, the learning moments shared in Inspire Greatness are must reads!
Garry Ridge, Chairman Emeritus, WD-40 Company & The Culture Coach
In Inspire Greatness, Matt Tenney presents an innovative, systematic approach to developing highly engaged and motivated employees. With practical strategies and actionable steps, Tenney offers a path any leader can follow to consistently inspire and empower individuals to reach their full potential. This transformative guide equips leaders and leadership teams with a process and tools for building a sustainable high-performance culture that drives organizational success and helps employees to thrive.
Skip Prichard, CEO, OCLC, Inc., Author of The Book of Mistakes: 9 Secrets to Creating a Successful Future
Inspire Greatness is a groundbreaking book on employee motivation and engagement. In this book Matt Tenney highlights the importance of routinely executing often overlooked fundamentals of leadership and includes a practical roadmap for being a leader who consistently inspires high levels of performance. Inspire Greatness is a must read for all leaders – from the front line to C-Suite – who want to be better leaders of teams and improve business results.
Mark Smith, Head of Talent Acquisition and Integration, Kraft Heinz Company
Inspire Greatness is an engaging, page-turner of a book that includes a very innovative approach to employee motivation and engagement. We've applied the guidance Matt offers in this book to help us increase employee engagement, dramatically reduce employee turnover, and navigate the uncharted territory of being the first national law firm to implement a four-day workweek for both attorneys and staff. I highly recommend this book!
Steve Fields, Founder and CEO, Fields Law Firm
In the ever-evolving landscape of human resources (HR), finding strategies to effectively motivate employees is a constant pursuit. This book brilliantly addresses this challenge with an approach that is both practical and insightful.
As vice president of human resources, I am always on the lookout for resources that provide actionable solutions to enhance employee engagement and drive organizational success. Inspire Greatness delivers precisely that. The author's commitment to simplicity, repeatability, and scalability resonates deeply with HR professionals, like me, seeking sustainable methods to inspire and empower their leaders.
What sets this book apart is its emphasis on a process that is not only grounded in research and best practices but also adaptable to various industries and company sizes. The real-world examples and case studies provide invaluable context, making the strategies easy to grasp and implement.
Inspire Greatness is a must-read for HR leaders, managers, and anyone passionate about cultivating a thriving workplace culture. Matt Tenney's expertise and passion for employee motivation shine through, offering a comprehensive guide that will undoubtedly become a cornerstone for HR professionals and leaders seeking to make a meaningful impact.
I wholeheartedly recommend Inspire Greatness as a game-changing addition to the toolkit of anyone invested in creating a motivated, engaged, and high-performing workforce.
Maryana Sinishtay, Vice President of Human Resources, Diamond Properties & Diamond Hospitality Group
I love this book! Matt Tenney offers a simple, practical path to consistently closing the gap between who we aspire to be as leaders and how we actually show up each day. Inspire Greatness is the best book I have read on the topic of effectively serving and bringing out the best in team members, and it is a must-read for any modern leader.
Felix Frowein, Senior Vice President, Global Consumer Fragrances at dsm-firmenich