Matt Tenney, Author of Serve to Be Great: Leadership Lessons from a Prison, a Monastery, and a Boardroom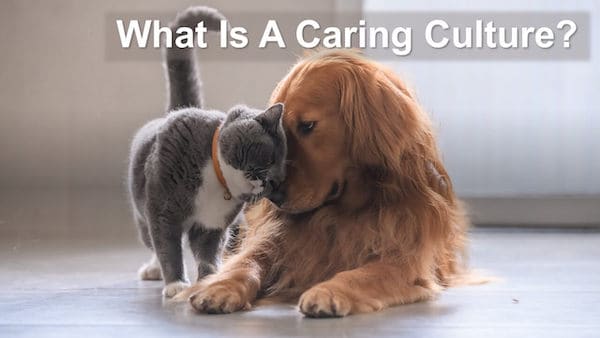 Maintaining a strong organizational culture is one of the most important parts of running a business and leading a team successfully.
But it can be a challenge to unite employees with a shared mission and sense of purpose, and create an environment where employees work together to produce a positive impact on people's lives.
This is why it is important for leaders to focus on developing a culture of care.
A caring culture is an organizational culture in which leaders consistently act in ways that help team members to thrive, and team members consistently act in ways that help other team members to thrive. As a result, the organization is able to care very well for customers.
Leadership that truly cares about employees and consistently demonstrates that care by putting people above profits will see the benefits of this approach in their organizations.
In this article, we will discuss what a culture of care looks like and the ways in which a caring culture benefits team members and customers.
What Does A Culture Of Care Look Like?
How does a leader create a culture of care?
Like any organizational culture, it's not something you can copy or fake—any inauthentic attempts at a culture of care will be obvious to your employees and, eventually, your customers.
A culture of care can't just be a mission, vision, and list of values posted on your company website or in your company's employee handbook. It has to go beyond "caring" words.
It can't just be motivational speeches at quarterly team meetings. Employees will quickly realize that leadership isn't providing a consistent, authentic culture of care if they aren't seeing it on the job daily.
To establish a culture of care, leaders must translate their language of care into caring actions that have a real impact on the lives of their employees.
In a caring culture, leaders focus daily on helping teams thrive. Team members also help each other thrive.
To create a culture where everyone on the team is committed to helping each other reach their fullest potential and experience real personal growth, the leader must consistently model caring behavior.
While it is a good idea to explicitly state your company's commitment to caring—for employees, customers, and your community—it has to be more than a statement. The company's whole business strategy must be consistent with caring.
Your recruitment and onboarding practices should establish a culture of care with employees by immediately making candidates feel welcome. This process should begin before an employee's first day on the job.
If employees feel a sense of belonging this early in their relationship with their company, cultural fit and cultural alignment will happen naturally. You can continue to build on this foundation as you grow your relationships with employees.
Being invested in your team's future is a good way to demonstrate a culture of care. Leaders should provide professional development and training opportunities to employees so they can expand and improve their skills.
Not only does investing in your employees lead to their personal and professional growth, it will make them better at their jobs, which will be good for the company's bottom line and boost customer satisfaction.
Why A Culture Of Care Is So Important
As we've discussed recently, great leaders make organizational culture a priority.
In his book Start With Why: How Great Leaders Inspire Everyone To Take Action, Simon Sinek tells us, "Leadership is not about being in charge. Leadership is about taking care of those in your charge."
Leadership is about more than being "in charge" of people. It is about leading in an authentic way and being in the unique and wonderful position to demonstrate care toward those you lead.
If you take good care of your team, it will benefit every aspect of your business.
When leaders care for their employees, those employees experience better mental health, with a reduction in the use of sick leave, and the company experiences reduced turnover.
With improved retention, a company that fosters a culture of care will also see lower onboarding costs.
Additionally, a caring culture can have a significant impact on a team's overall perception of possible threats to the company's stability.
No matter how well-run a company is, there will inevitably be struggles and difficult times, caused by internal and external circumstances. It has been suggested that a caring culture can lessen the negative impact of such events.
Studies show that a caring organizational culture can actually make a profound difference in how announcements about layoffs, financial instability, and crises of internal or external origin are received in the workplace and act as a buffer for "bad news."
Organizational cultures that value positive, caring behavior are often able to take "threats" to the organization and turn them into "opportunities" for positive change.
The evidence also shows that organizations that foster a culture of customer satisfaction through care experience a competitive advantage.
One of the most amazing results of having a culture of care where employees feel valued is the added value it provides for customers. Employees who truly care about their company and team members will take care of their customers.
Adam Fridman, Founder of Chicago-based digital branding agency Mabbly, says that a happy organizational culture will produce a happy team who will keep customers happy.
According to Fridman, "Employees who are focused on the customer experience and see themselves as an empowered and important member of the team are more likely to provide a positive customer experience."
This has a tremendous impact on the bottom line. When your company makes customers happy, they return the favor with loyalty.
If you want your team to think strategically about how to create positive experiences for customers, make work a positive experience for them.
Practicing a Culture of Care
Culture isn't just a checklist of beliefs, values, or perks you offer employees. It's the heart and soul of a company.
Because of this, practicing a culture of care is so vital to the success of every project your company undertakes, especially when there's a direct impact on customers.
In order to establish a culture of care in your organization, you need the entire team on board. It requires a concerted effort from everyone within that culture to succeed.
Be intentional with how you implement your culture. Most importantly, be consistent. If employees don't feel the love, customers won't either.
Always remember, it isn't only about executing on strategy, delivering a quality product, or customer service. It's about uniting employees, customers, and the community together around a shared purpose.
It's having a culture that values people above profits that will set you apart from your competitors. When you forge a caring culture in your organization you will be making a difference in the lives of your team and your customers.
If taking care of your employees isn't part of your overall culture, I highly recommend making it a daily practice.
---