Matt Tenney, Author of Serve to Be Great: Leadership Lessons from a Prison, a Monastery, and a Boardroom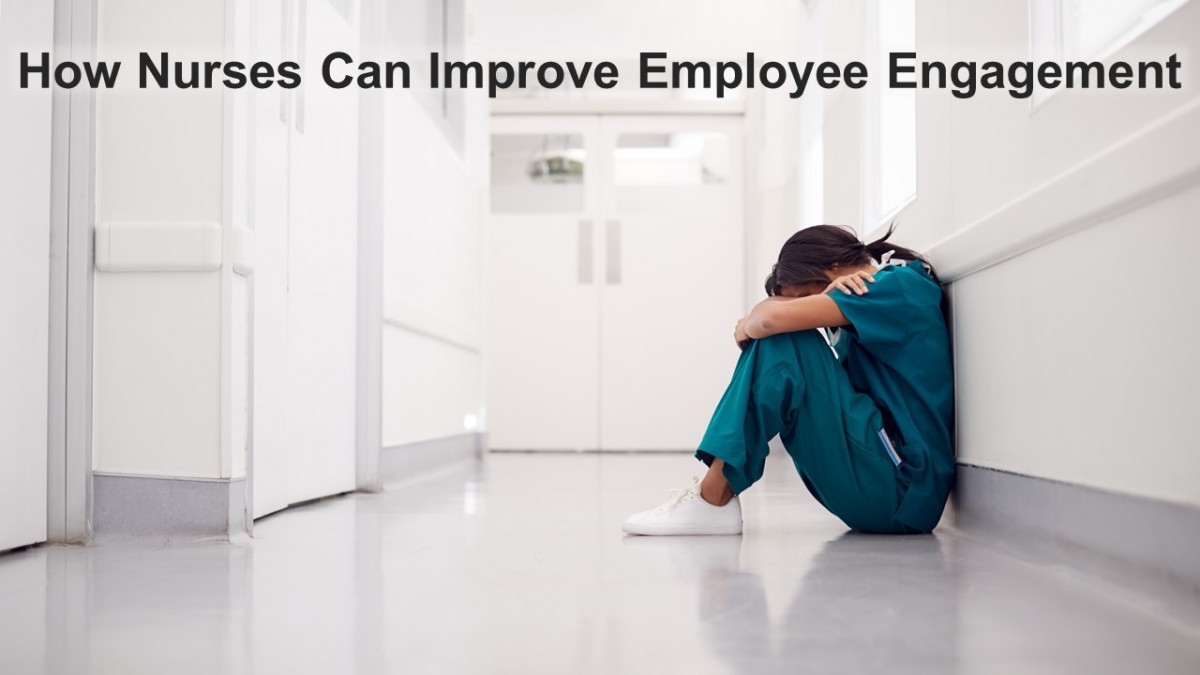 During the COVID-19 pandemic, many workers in almost every industry were, and continue to be, impacted in some way. Whether they lost their jobs or found themselves working much longer hours under stressful conditions, the pandemic has, in many cases, hurt employee engagement.
Probably no other group endured the daily brunt of the pandemic more than frontline healthcare workers. The stress of working in this field, so close to the heart of the chaos, took a physical, mental, and emotional toll on these workers.
Many nurses opted to leave the profession due to the burnout and stress associated with long hours, more responsibilities, the dangers associated with their work, lack of resources, the sheer volume of patients which has overwhelmed many hospitals at different points during the pandemic, and having to witness death on such a large scale, on a daily basis.
This has understandably led to a drop in employee engagement, and left leaders in the field scrambling for ways to rebuild engaged teams.
Nurses can improve employee engagement by providing autonomy, offering development opportunities, refocusing on purpose and values, giving feedback and recognizing employees' contributions, and ensuring a healthy work/life balance for staff. Compassionate leaders who truly value employees should guide these engagement strategies.
In this article, we will discuss the concept of nurse engagement, the factors that have hurt employee engagement among nurses, and some strategies nurses can implement to improve staff engagement.
Note: If you'd like to see a free video training program I created that will show you how to dramatically increase employee engagement in your organization in the next three months, just CLICK HERE for instant, free access.
Nurse Engagement
According to the Online Journal of Issues in Nursing, the concept of "nurse engagement" is a term often used to refer to a nurse's commitment to their job and overall job satisfaction.
These are just two of the components of nurse engagement. Other important factors include a nurse's level of commitment to the organization and their dedication to the nursing profession in general.
Nurse engagement significantly impacts critical safety, quality of care, and patient experience and outcomes.
Just How Important Is Nurse Engagement? VERY
According to research by Gallup, nurse engagement is the top predictor of mortality variation across hospitals, and the level of commitment and emotional involvement of nurses on staff is even more important than the number of nurses on staff.
This research tells us just how important nurse engagement is for staff, the organization, and the patients they serve. Lack of engagement in the nursing profession can literally become a life-and-death dilemma that leaders need to quickly address.
Causes of Lack of Engagement
To identify the drivers of nurse engagement requires a thorough understanding of the current state of engagement and the factors impacting it.
Burnout
According to a study conducted by Mental Health America in 2020, 93% of healthcare workers were experiencing stress, 86% reported experiencing anxiety, 77% reported frustration, 76% reported exhaustion and burnout, and 75% said they were overwhelmed.
One recent survey revealed that 34% of the nurses surveyed plan to leave their current job by the end of 2022, and 32% of nurses surveyed said they plan to leave the field altogether or retire.
These statistics are sobering.
Longer shifts, covering for absent co-workers, taking on new tasks and duties, and trying to juggle a home life at the same time has led to burnout for many nurses, with some even leaving the profession entirely and more saying they will over the course of the next year.
Compassion Fatigue
While burnout usually results from having too much work to do, too many hours spent at work, and too many responsibilities, compassion fatigue results from being overwhelmed from being exposed repeatedly to the suffering and trauma of others, while trying, and wanting, to help them.
Psychiatrist Yazhini Srivathsal says compassion fatigue is a process, stating "It takes time to develop. It keeps building slowly, to a point where you start to not care about yourself or others in your life. You end up overusing your compassion skills and reserves, so you no longer have much to provide"
Lack of Recognition and Feedback
Many nurses have taken on additional responsibilities over the course of the pandemic. Many have taken on leadership roles but still feel that they lack the respect and recognition they deserve.
A survey of nurses in 2020 by The Harris Poll found that 55% of respondents said they thought their voices weren't being heard during the pandemic, and 41% said their opinions and concerns are not taken seriously.
By not having a voice in a situation that already makes you feel powerless, as was most likely the case during the darkest days of the pandemic, it's hard for staff members to remain engaged, especially if they aren't able to have a voice in decision-making that impacts their patients.
Note: If you'd like to see a free video training program I created that will show you how to dramatically increase employee engagement in your organization in the next three months, just CLICK HERE for instant, free access.
Strategies for Improving Engagement
Here are a few engagement strategies that can be implemented that will help to address the causes of low engagement and disengagement.
Autonomy
Nurses need to be trusted to make decisions and given the tools they need to work independently to improve patient outcomes. Crystal Lawson, DNP, RN, CENP, and education director for AONL says the best approach is to "delegate the outcome and not the approach".
Self-scheduling is one way that nurses can exercise autonomy in their roles.
Development Opportunities
Development and learning opportunities can be offered in a variety of ways, including online and in-person training sessions, role-specific courses, and leadership development opportunities. The opportunity for professional growth can help nurses not only improve their skills, but also become more engaged in their jobs.
With more nurses moving into leadership positions, this is especially important. Many nurses are looked to as leaders, though they may not necessarily be in a leadership role, and are handed more and more responsibilities, so providing leadership development opportunities for nurses to rise into leadership roles is essential.
Purpose and Values
All employees, no matter what field they work in, need to feel a sense of purpose in their work to become and stay engaged.
Nurses are doing work that is meaningful and would not seem to lack a sense of purpose, but with burnout and compassion fatigue exhausting them, they may feel too overwhelmed to fully connect with the organization's purpose and core values.
For this reason, it is vital for nurses who are struggling to find meaning or purpose to be reminded of core values, see them demonstrated regularly by upper management, and feel that they are united by a shared sense of purpose.
Recognition and Feedback
Burnout and compassion fatigue chip away at engagement. One way to combat this is through regular recognition of the accomplishments of staff.
This can be a great way to boost morale and demonstrate to employees that they are valued and that the work they do is not only essential for organizational success but, even more importantly, positive patient outcomes.
Feedback should also be a priority. Employees need regular feedback to make improvements when needed, and management also needs feedback from employees to find out what they could be doing better.
Work/Life Balance
Work/life balance is something most workers need to feel satisfied in their jobs. With the toll the pandemic has taken on healthcare workers, work/life balance has suffered tremendously.
Long hours, burnout, compassion fatigue, and the feeling that your voice isn't heard can all lead to stress and anxiety that can spill over into one's private life and affect their family.
Providing support for staff with work-related anxiety and offering self-scheduling, which offers flexibility and more control for the employee, are just a few of the ways to improve work/life balance.
Compassionate leaders who truly value employees should guide these engagement strategies. Utilizing strategies that will improve the work environment at every level and truly caring for employees will help lessen burnout and work-related stress and anxiety, with the added bonus of improving engagement and retention.
---